Holdkey Privacy statement
Holdkey has created this privacy statement in order to demonstrate our firm commitment to privacy. The following discloses our information gathering and dissemination practices for this website: Holdkey.eu
General
Holdkey does not collect any information of our visitors such as name, address, phone number, or e-mail address. Holdkey will not disclose any of your personally identifiable information except when we have your permission.

Knowing that you use certain services or features may help us to offer you better and more relevant content and advertisements. But as with all personally identifiable information, we do not make this available to any third parties without your permission. Any user statistics that we may provide to prospective advertisers or partners are provided in the aggregate only and do not include any personally identifiable information about any individual user.
IP address
We use your IP address to help diagnose problems with our server, and to administer our Web site.
Links
This site contains links to other sites. Holdkey is not responsible for the privacy practices or the content of such Web sites.
Contacting the Web Site
If you have any questions about this privacy statement, the practices of this site, or your dealings with this Web site, you can contact info at holdkey dot eu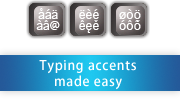 No more alt codes
1 minute learning curve
Windows 7, XP and Vista